About Cindy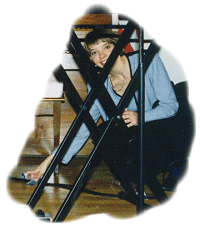 In addition to being a singer/songwriter/pianist, Cindy Bauchspies is also an accomplished choral director at the Annapolis Area Christian High School in Severn, Maryland. Since receiving her B.S. from the University of Maryland Baltimore County in 1986, she has worked to develop the vocal music program at Annapolis Area Christian School. The school now includes four choirs and several music electives, involving over 1/3 of the student body.
Cindy's choirs have performed in many venues, including the White House, the National Gallery of Art, Oriole Park at Camden Yards, and with the Moscow Ballet. She has taken her choirs on three European tours. In 2003, her accapella choir was the featured choir at the International Church Music Festival in Bern, Switzerland under the direction of Sir David Willcocks. The performance was aired on BBC radio.
In addition to her school activities, Cindy worked for 15 years at Severna Park Evangelical Presbyterian Church directing the adult and children's choir as well as the praise band. She has also led workshops in various other churches on sight-reading, worship, and children's music.
Cindy has enjoyed guest conducting as well as adjudicating choirs throughout the state of Maryland. Most recently, she served as vocal coach for the von Trapp Children, the internationally known great-grandchildren of Captain and Maria von Trapp.
Cindy currently serves as vice-president for the Maryland/DC chapter of the American Choral Directors Association. In 2003, Cindy was the recipient of the Anne Arundel County Cultural Arts Foundation "Annie Award" for Arts Education.
Cindy currently leads worship with her husband at the United States Naval Accademy Protestant contemporary worship service. She and her husband, Todd, live in Annapolis, Maryland and thoroughly enjoy performing together in concerts and churches all over the United States.